LEADER OF INDEPENDENT UNION AT MOZYR OIL REFINERY GOES ON HUNGER STRIKE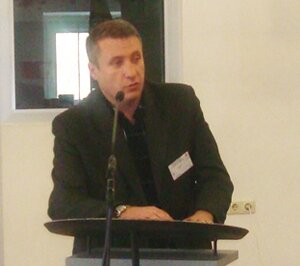 Chairperson of primary-level organization of Belarusian Independent Union (BNP) at Mozyr Oil Refinery Yuri Shvets is going to start hunger strike on October 14, 2013 for protest of outrage caused by the employer in relation to members of independent union.
According to Yuri Shvets the continuous pressure, reprisals, discrimination and violations of workers' Constitutionl, labor and civil rights have not been stopped since 2008.
The last drop that made the cup run over for Yuri Shvets was the simultaneous dismissal of five members of independent union: married couple Gennady and Tatiana the Bobrovnikovs from the design-construction bureau, workers from the shop # 12 Vladimir Kliuchnikov, Alexey Ermak and Ivan Shaban. These workers were imposed numerous penalties based on willful prefabricated accusations carried to the point of absurdity which then have become grounds not to extend their short-term contracts.
The union leader is sure that disciplinary penalties imposed on the workers in any way correspond to the gravity of the charged violations and do not go in line with norms of the Labor Code of the Republic of Belarus. The addresses of the independent union to the employer, prosecutor office and the court have yielded no positive result.
General Director of the OAO "Mozyr Oil Refinery" Anatoli Kupriyanov does not intend to meet Yuri Shvets and the members of the Executive bureau of the union for discussing the situation. He also refused to meet the BNP President Nikolai Zimin and the leader of the BKDP.
In such a situation Yuri Shvets has decided to go in for a desperate chance to start a three-day hunger strike beginning from 14 October. If his demands are not fulfilled he is ready to go in for indefinite hunger strike.
----"I have no other way out as all this impacts the fate of the workers. I demand to stop the unlawful acts in relation to members of independent union at Mozyr Oil Refinery. I urge on having full and just investigation of the dismissal of Gennady Bobrivnikov and his wife Tatiana Bobrovnikov, Vladimir Kliuchnikov, Alexey Ermak and Ivan Shaban involving competent and independent experts. I demand punishment remission and extension of the contracts of the dismissed workers based on terms and conditions envisaged by the national legislation and local legal acts in force in the company"… - says Yuri Shvets.